Camper-boats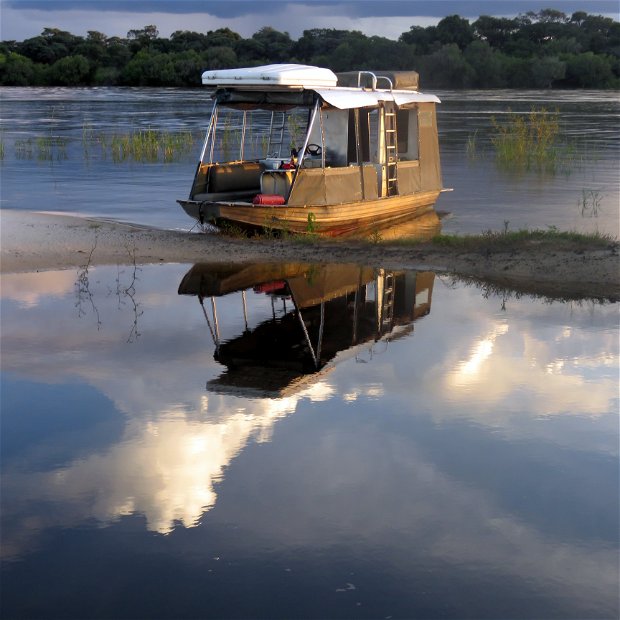 Overnight safaris on our safari boats will take you down the Zambezi and/or Chobe Rivers to enjoy, with the rivers as your platform, the fascinating array of fauna and flora this region has to offer.

Travel at a leisurely pace down the expanse of these mighty rivers with their endless floodplains and breath-taking sunsets. In the evening relax around the warmth of a campfire on a secluded white sandbank before heading to the comfort of your tent, gently rocking to sleep to the sounds of an African night.
On the Chobe you will be enjoying stunning views of the wildlife of the Chobe National Park and also experience the communities living in close proximity of the park. They sometimes have to contend with visits by mostly elephants which do cross the Chobe regularly. Swimming elephants are one of the experiences which will remain burned in your memory forever.
Please note our Camper-boat rates are more complex for online bookings. You can get further information and rates at [email protected]
The Camper Boats
Our Camper boats are 7.5m aluminium Outback Safari Boats (a waterborne safari vehicle), powered by 60hp outboard engines. With two roof top tents and a bunk bed on the lower deck, each boat can accommodate up to six guests. On board is a small kitchenette with a gas stove, basin and fridge, a dining area, a shower and a toilet.
The boats are equipped with all the necessary kitchenware and camping equipment. A skipper will accompany you and will mainly serve as skipper and guide, assisting in other duties where and when possible (i.e. setting up camp, making fire etc.).